Leisure Facilities
Newhill Farm Cottages have an excellent range of leisure facilities that are shared across the three cottages. These facilities are all on your doorstep and are fully inclusive in the price of your holiday. The facilities are available all year round from 9am – 9pm every day and each cottage has their own keys to allow them to access the facilities whenever they choose. Specialist Leisure/Swimming Pool towels are provided in each cottage for use when in the pool or hot tubs. The leisure facilities on site are:
Indoor Heated Swimming Pool
The Swimming Pool is a perfect way to relax. The pool is heated to 29 degrees and is a constant depth at 1.25 metres deep (4 feet). It is deep enough to swim, but shallow enough so that children can stand upright when playing, really helping with their confidence. The pool is 9.1 metres in length and 3.6 metres in width. The pool house has its own toilet facilities, as well as two large changing rooms with hot showers and a baby changing table. There are a number of pool accessories available – arm bands, floats, masks, goggles, etc, but please feel free to bring your own too.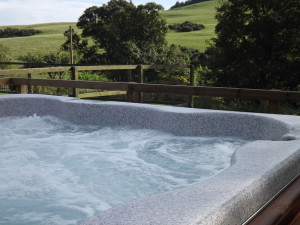 Large Outdoor Hot Tub
Relax and unwind in the large 7 seater Outdoor Hot Tub, heated to a lovely warm 39 degrees. This Hot Tub is set on its own decking area, just next door to the pool house and with fantastic views overlooking the surrounding countryside. Their are various seat and jet configurations to ensure it satisfies everyone's preferences, be it for a vigorous or relaxing soak.
Outdoor All Weather Tennis Court
Our fantastic All Weather Tennis Court is full size, painted in two tone green and overlooks the local farmland and forestry. A beautiful quiet spot in which to practice your game. The court is fully enclosed with traditional green side netting and a standard height white centre net. There is a bench area for resting or for your admiring spectators. We have racquets and balls for beginners, whilst the more experienced players among you will no doubt come fully prepared.
Indoor Hot Tub
Also, within the Swimming Pool house there is an indoor hot tub that is kept at 37 degrees (a slightly lower temperature than the outdoor hot tub, so it is suitable for younger children, as well as adults). The Hot Tub has a light, slow bubble jets or a more vigorous bubble jet setting for the more adventurous guests.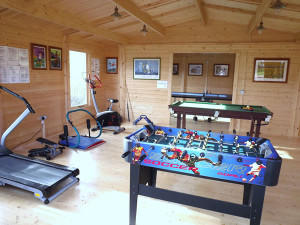 Games Room and Gym Building
The Games Room and Gym Building was newly constructed in 2014 and houses a range of games equipment, including a Table Tennis Table, Snooker/Pool Table and Table Football.  The Gym Equipment includes a running machine, exercise bike, stomach curl, mat, hand weights and a Bosu Balance Trainer. In addition, there is a large variety of toys, board games, a blackboard and chalks, as well as a DVD Library.
Outdoor Children's Play Area
Our younger visitors can enjoy their own outdoor play area, within its own separate fenced area. There is a large climbing frame with slide, swing, ladders, 2 man swing and a scramble net. There is a protective wood bark floor to ensure a soft landing in the event of a mishap.
Pitmedden Forest
If you fancy venturing away from the cottages, then you have the entire Pitmedden Forest Recreational Area on your doorstep, offering various walking and cycling trails. In addition it has an excellent reputation for Mountain Biking, hosting the annual 'Muckmedden' Mountain Bike competition.